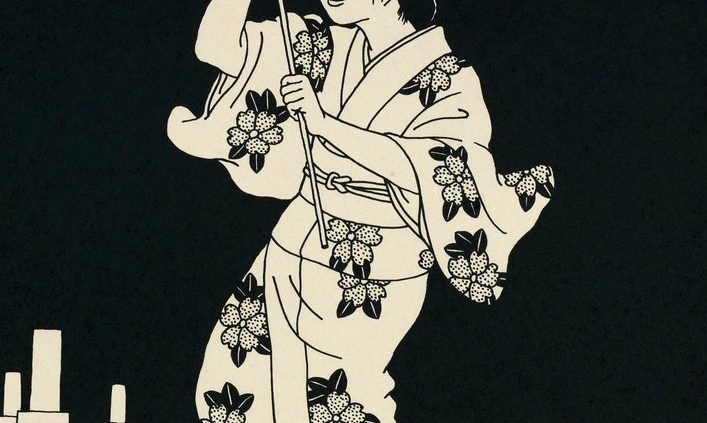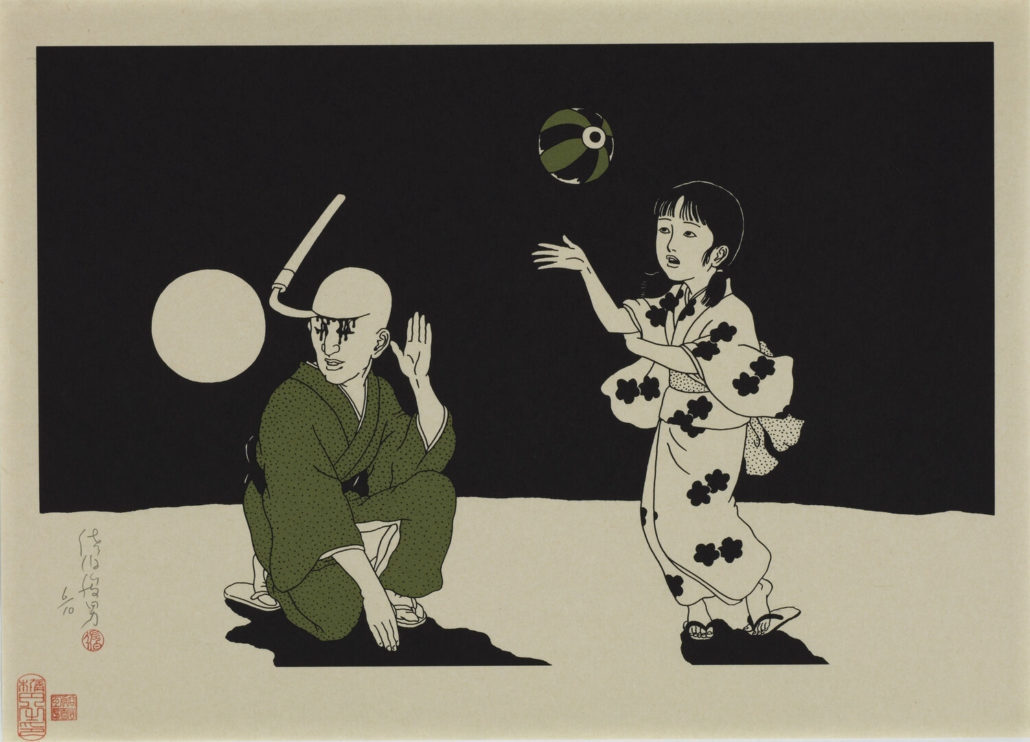 Toshio Saeki (1945-2019) is an illustrator and an icon of the Japanese underground. His work is at the crossroads of the Japanese traditions
of shunga (traditional erotic engravings) and yōkai (representation of spirits, demons and ghosts). He also renewed the genre of eroguro, a Japanese artistic and literary movement which appeared around 1930, combining eroticism, macabre and grotesque elements. «Its monstrous eroticism is all the more powerful because it relies on the power of evocation and unfolds in a very pure drawing. Hergé plunged into the perverse thoughts of an Edogawa Ranpo.» (Marius Chapuis for Liberation)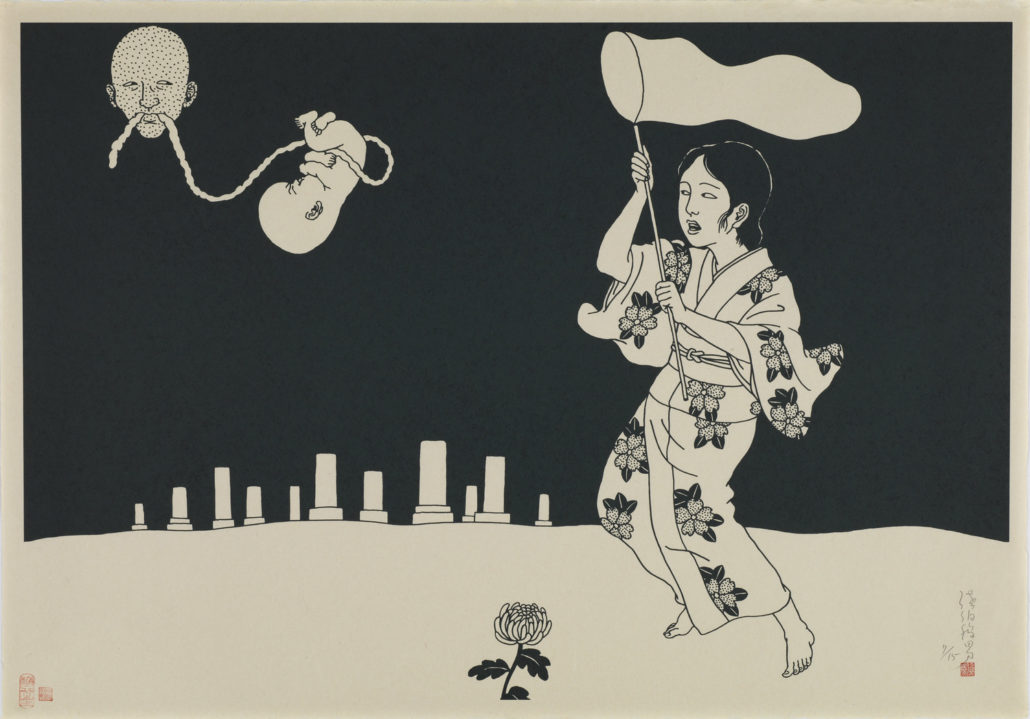 Galerie Da-End is delighted to unveil a new set of silkscreen prints by this avant-garde artist. The never-before presented corpus – which completes the first series exhibited in 2010 – is the result of a close collaboration during 2009 between the gallery and master silkscreen artist Fumie Taniyama, under the attentive direction of Toshio Saeki himself.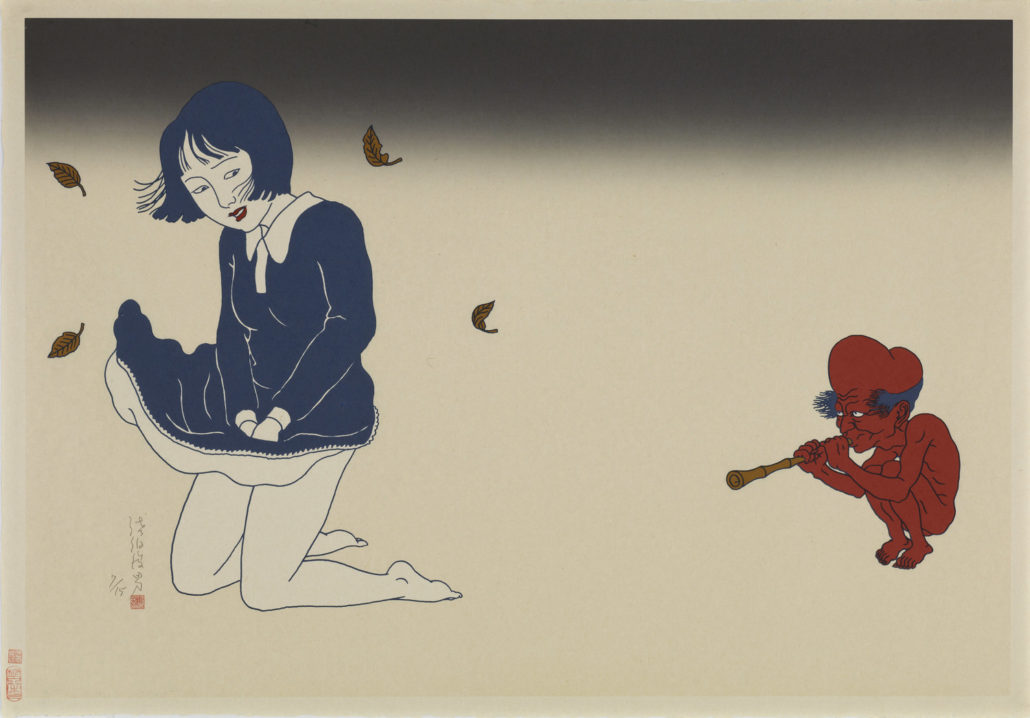 « Saeki never ceased to develop his remarkable talents as a draughtsman and colorist in order to explore ever more deeply the obscure regions
of the unconscious. The two main ingredients of his art are the conciseness of the line – the result of extreme self-control and unfailing lucidity – and his passion for eros (or ero, a Japanese term he prefers, because, according to the artist, the idea of death is also present). In other words: a clear line and dark intentions. Saeki's sulfurous universe is utero-centric. Everything revolves around this cyclopean eye which is at the same time matrix, frightening cave, shelter, source of pleasure and Pandora's box. Each of his works constitute as many thresholds and hidden passages leading directly from the waking state to the state of dream or nightmare, through the art of line. Each drawing tells a story. There are voyeurs, perverts and tortured. » (David Rosenberg)
February 13 – March 27, 2021
GALERIE DA-END
17 rue Guénégaud 75004 Paris
https://www.germanopratines.fr/wp-content/uploads/2021/02/Toshio-Saeki-1-2.jpg
1001
707
Hélène
https://www.germanopratines.fr/wp-content/uploads/2019/12/logo-germanopratines-3-1030x221.png
Hélène
2021-02-07 19:19:28
2021-02-07 19:45:25
Toshio Saeki